Dr. Paul D. Pringle (Chiropractor) – FIACA
The practice of Chiropractic never ceases to amaze me. I have been in practice for about 58 years and I never get tired of 'going to work.'
Dr. Paul Pringle, Chiropractor in Belfast, was born in the USA. Educated in Virginia, attending the College of Science and Medicine at the University of West Virginia, Morgantown until 1958.
The Early Years
As a youth Paul Pringle was involved in a serious motor accident. This affected his spine, nerve system and especially his general health. After many years of medical and hospital care with varied health and immune system problems his quality of life was severely limited. Almost out of desperation Dr Pringle's parents decided to consult a chiropractor.
Paul was so impressed by his response he discontinued his medical education and began a quest to become a doctor at the coveted Palmer University, Iowa, USA, where he was awarded his Honours degree in 1962.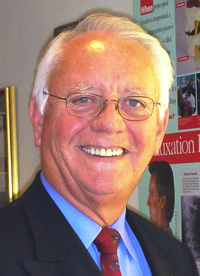 Exciting Experiences
Dr. Paul Pringle has practiced and lectured from as far as Australia, New Zealand to USA and from the Isle of Man, Spain and Sweden to Northern Ireland. In 1972 he decided to take his profession to the outback of Australia and become the most remote chiropractor in the world for the next 15 years. During that time he purchased an aircraft, learned to fly and established the first flying Chiropractic service in the southern hemisphere.
Professional Credentials
Paul has treated many of Hollywood's top stars and sporting personalities from around the globe. Dr. Pringle is a foundation member of the United Chiropractic Association, a charter member of the prestigious Australian Spinal Research Foundation and is registered with the General Chiropractic Council in the UK. He is also associated with the FIACA, is an instructor at 'Touch' For Health (Applied Kinesiology) and a Certified NeuroInfinity Bio-Feedback Assessor.
Passion for Excellence
To help people help themselves is the best feeling I know of. You know the old Chinese proverb – 'Give a man a fish and you feed him for a day. Teach a man to fish and you feed him for a lifetime.' My greatest calling is to make metaphorical fishermen out of my practice members. Little miracles happen every day without the use of drugs and surgery. Now that's really cool, in my mind! I don't think I will ever retire (God willing)."
On a Personal Note
A leading chiropractor in Belfast, Paul Pringle, has resided in Northern Ireland for the past 28 years and is happily married to Maxine, who is the Practice Manager at Pringle Chiropractic. Maxine also worked in the dental profession for 20 years, 12 of which were spent in the Middle East.
He has three lovely children and two teenage grandsons who live in Australia. When Paul and Maxine are not absorbed with work (which is very rare), they love to travel and visit friends around the world.
The good doctor also likes to read, blog and stay abreast of the latest developments in the health domain. An active Rotary member for over 25 years, Paul also likes sports, eating out and live theatre. Their toy poodles also ensures he gets lots of exercise every day!
Get in touch with us
"Enough about us! How long has it been since you really felt good? How can we help you with today's safe and natural chiropractic care? Give our Belfast chiropractic office a call, so we can help you take your first step towards better health."
CONTACT US
* Pringle Chiropractic is registered with The General Chiropractic Council (GCC) and are members of HSA and PPP Health Insurance companies.
---
Dr Paul Pringle (Chiropractor) | 028 9020 2003